Real-time insight into refined products shipments - now visually trackable from producer to port
OPIS is the world's leading publisher of retail and wholesale oil product prices and news — gathering some two million price data a day to make its daily assessments.
It is this expertise that makes the OPIS Tanker Tracker unique and it's why we're excited to be launching a third new service on the FleetMon platform. Hot on the heels of the successful OPIS jet and diesel cargo trackers…
Announcing the OPIS Europe Gasoline Tanker Tracker
The OPIS Gasoline Tanker Tracker provides a real-time view of gasoline shipments from Europe to West Africa and North America, giving an up-to-the-minute view on who is taking what, where is it heading, how much, and when it will be arriving.
Already our experienced team of reporters and analysts from the OPIS Europe Jet, Diesel & Gasoil Report track Europe-bound jet fuel cargoes, and trade flows of diesel into Europe, including the arbitrage-driven U.S. export market.
The OPIS Gasoline Tanker Tracker not only complements the jet fuel and diesel products, but gives the most comprehensive view of key refined products being shipped in and out of Europe, as well as the market for transatlantic clean trade, the world's second largest.
By including information about who is controlling the vessel, the tracker also offers a unique insight into how the world's commodities traders and oil companies are conducting their business.
OPIS Europe Diesel Tanker Tracker
Our team of shipping market and oil trading experts used its unique vessel intelligence to beat other news outlets to report on the first ULSD cargo to Europe from the new Al Jubail refinery in Saudi Arabia.
Previously, knowing who chartered all vessels shipping diesel to Europe and when they were arriving was closely held information that wasn't widely available.
And in the first quarter of 2015, OPIS real-time diesel tracking achieved a 98% correlation with official EU import data released months later.
Suddenly, a powerful technology combined with the right expertise, means a lot of new power to predict the volume of imports and therefore price of the major global commodities.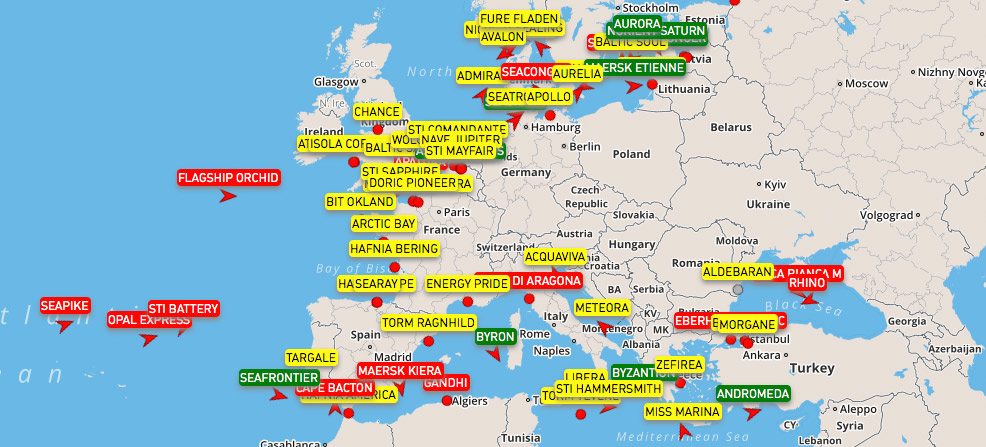 OPIS Europe Jet Tanker Tracker
Europe is so dependent on jet fuel imports that a single large cargo can cause pricing effects across the continent and even further afield. That's why the team behind the OPIS Jet, Diesel & Gasoil Report is making the most targeted and detailed jet fuel shipping list in the business available for the first time on FleetMon's AIS tracking platform.
Apart from watching the progress of the jet-carrying fleet, its reporting functions mean you'll be aware when import volumes surpass levels for the same month a year ago. And quick options let you identify deliveries due in the next seven or 30 days, or into specific regions.
The OPIS Tanker Trackers are the perfect complement to the unique commentary in the OPIS Jet, Diesel & Gasoil Report, but you don't have to be a report subscriber to be alerted to crucial tanker news. When new vessels are added or a captain signals a new destination, you'll be the first to read about it in the daily tracker email update sent via the OPIS Tanker Tracker.