Satellite AIS - space-based vessel tracking
Satellite AIS available: FleetMon is proud to bring its users a fascinating new technology: space-borne AIS enables seamless global tracking of the world's merchant fleet.
What can we do for you?
FleetMon combines terrestrial and satellite AIS
The international AIS system, originally developed as a collision avoidance technology, has proven to be an indispensable tool and information source of unrivaled quality for the maritime world.
With its land-based AIS receiver station network, FleetMon provides undelayed signals with superior resolution for vessel tracking and monitoring. Today, FleetMon's antennas offer live coverage of all major waterways and ports, with about 40,000 vessels detected in every single moment. The FleetMon Explorer software allows its users to watch marine traffic and operations live, wherever they are, right in their browser.
Additionally, FleetMon has teamed up with partner exactEarth, enabling you to track and follow ships sailing the open seas through satellite AIS technology. Combining high-resolution terrestrial and global space-based tracking in a unique seamless fashion, FleetMon brings you the best in today's AIS tracking!
Applications
Fleet monitoring
Competition analysis
Trading pattern analysis
Forecasting, business intelligence
Logistics scheduling and optimization
Anti-piracy and post-piracy measures
Environmental monitoring and analysis
Search and rescue, safety
New: FleetMon Unlimited Sat plans
FleetMon offers access to satellite AIS data on a subscription basis: In our FleetMon Unlimited Sat plans, the global marine traffic is available at your fingertips.
Maritime intelligence: Users are able to follow ships all around the globe, even on the high seas and remote areas. FleetMon's extensive vessel database and all its advanced research tools are fully satellite-enabled: Port Call Logs, Events, Voyage Report and Schedule tables all benefit from the superior data quality and provide a consistent and complete picture of any ship's behavior, trading patterns and port activities.
This also covers our commodity trading/brokering modules such as the Tanker Tracker.
Fleet monitoring: Ships of interest can easily be collected in a convenient watchlist, the "My Fleet" list, optionally segmented further by department, project, schedule or other criteria. Together with FleetMon's navigation chart module, weather and sea state forecasting and live monitoring capabilities, this makes FleetMon a turn-key solution for fleet monitoring, suitable for ship owners, managers and more.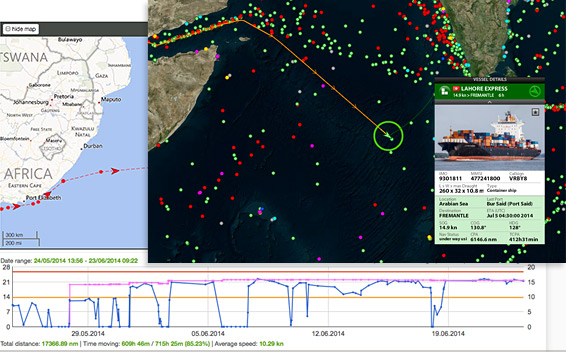 One-click satellite AIS position updates for all vessels
Satellite-based AIS has never been easier: FleetMon now opens this technology for the public and lets its users retrieve vessel position updates conveniently at the click of a button!
The satellite update can be activated directly from the vessel datasheet page and is available for all active vessels in the vast FleetMon Vessel Database that are sailing on high seas and in remote areas.
This way users benefit from vital position information precisely when they need it and how they need it.
Availability
Furthermore, satellite AIS is available in the following FleetMon products: