Sea blockade of the Crimean ports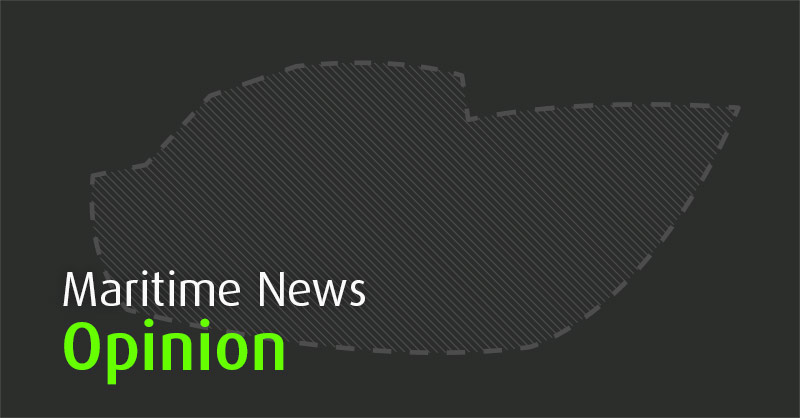 Sea blockade of the Crimean ports
Ukraine lost Crimean ports, but not their cargo
There is some kind of turmoil in Black Sea – Med regional shipping with regards to Russian-Ukrainian crisis and status of Crimean ports. Ukraine actually, blocks land cargo transit to Crimea, landing a mighty blow on Crimean ports – cargo turnover January – May already fell 48% compared to previous year, to 3.6 million tons. Main bulk of Crimean ports cargo flow consists of Ukrainian and Russian bulk cargoes, such as grain, steel, coal, fertilizers, plus transshipments of LPG (from Russia and Kazakhstan) via Kerch terminals. There are not much goods produced by Crimea peninsula itself.
Still, Ukraine losing Crimean ports doesn't mean Ukraine will lose Crimean ports cargoes, if Ukraine plays the cards in a right way. There is one big problem with Crimean ports occupied by Russia, but land-linked via Ukraine only – all the cargoes going to ports, go through Ukraine territory by Ukrainian railway and trucks. Russia may build a bridge (it will take at least three years), and at least partially, fill Crimean ports with Russian cargoes, but there is another problem Russia doesn't comprehend yet – the legal status of Crimean ports.
Right now Ukraine is too busy with crisis and with Ukrainian East separatists, supported by Russia (actually, separatist movement "army" consists mostly of Russian citizen, plus up-to-date arms and ammunitions supplies), to think about anything else, including Crimean shipping. But when the situation cools down, Ukraine inevitably will pay as much attention to Crimean shipping and cargoes, as they undeniably deserve. Russia doesn't have enough port facilities in the region to handle all of its' export cargoes, hence the Ukrainian transit. Part of this transit went through Crimean ports. If Crimean ports are blockaded, nearly all of those cargoes will be re-directed to Ukrainian mainland ports, which is already the case. Crimean ports and peninsula itself do have a lot of potentialities to develop existing ports, and build new ones (China was about to invest into big deep-water Crimean port project, before the Ukrainian Revolution and following unrest).
Never mind railway bridge Russia is going to build – Crimean ports may be closed by an effective sea blockade inflicted upon Crimean shipping by Ukraine. By all international laws and conventions, Crimea is an occupied territory. All Ukraine has to do is to establish a system of monitoring Crimean ports ship calls and prosecuting the perpetrators. It's already under way – read my previous articles "Ukrainian activists declared a war on Crimean shipping" and "Keep clear of the Crimean ports – a warning to all the shipowners":
http://www.news.odin.tc/index.php?page=view/article/1535/Ukrainian-activists-declared-a-war-on-Crimean-shipping
http://www.news.odin.tc/index.php?page=view/article/1509/Keep-clear-of-the-Crimean-ports--a-warning-to-all-the-shipowners
It's an amateurish level, but when the State of Ukraine will take the business into its' hands, the situation will change, making Crimean ports as risky for shipowners, as U-boats infested North Atlantic. Not many incidents will have to take place before shipowners will get their lesson – keep clear of Crimea for your own good.
Ukrainian activists latest on the perpetrators:
Tanker Emerald Stars, IMO 9290830, dwt 37270, built 2005, flag Marshall lslands, manager International Andromeda Shipping, Monaco. Tanker left Novorossiysk on June 23, destined for Feodosia (Crimean port). Tanker anchored off Kerch Strait and stayed there until 0830 UTC June 27, when AIS signal disappeared. Her position occupied another tanker, suezmax Heydar Aliyev, owned by Palmali, with unclear intentions and lacking history of last two months port calls – last port of call according to AIS, was Kerch, April 5. Probably tanker is engaged in an oil trade between Novorossiysk and Kerch.
The main transport link between Russia and Crimea now is ferry lines. Two new large-capacity ferries entered the lines recently. Russian authorities published their names, Novorossiysk and Sevastopol, avoiding the details. Ukrainian activists found out those interesting details – both ferries belong to Turkish shipowner Karadeniz Roro Ve Conteyner (Yesil Cimen Sokak 9, Levent Mah, Besiktas, 34330, Istanbul, Turkey), until recently they've been known as ULUSOY 1 (IMO 7822160, gt 13867, built 1980) and ULUSOY 2. Both re-flagged under Palau flag – I won't be much surprised to find out sometime later, that Russia made a special agreement with Palau on registering Crimea engaged vessels under Palau flag, in an attempt to cover up the shipowners.
On a photo a "new" ferry with hastily painted new name on its' board, barely covering old name. All photos and full story (in Russian) at http://www.blackseanews.net/read/82638
Voytenko Mikhail
June 28
Some legal aspects of Crimean ports
On March 27, 2014 the UN General Assembly adopted a resolution on Ukraine, which called upon States, international organizations and other institutions not to accept any change in the status of the Crimea and Sevastopol, and to refrain from any action that could be interpreted as an admission of any changes to that status. Thus, a new status quo has emerged. However, the number of questions is not reduced, on the contrary, progress in resolving some problems creates a chain reaction setting in the agenda an increasing number of emerging issues that require solutions.
A Vessel's Call at the Port of Northern Cyprus
The Republic of Cyprus was established by the Constitution of 16 August, 1960. On July 20 1974 Turkey as the guarantor state brought 40000th contingent of its troops on the island under the pretext of restoring the constitutional order and the protection of the Turkish Cypriots.
On October 3, 1974 the Council of Ministers of the Republic of Cyprus announced ports of Famagusta, Kyrenia and Karavostasi terminal closed to all vessels. The Port Authorities Act 1973 was amended in such a way that the master or owner of the vessel, which arrives and departs from a closed port or comes to a closed port, or stays there in violation of the rules, shall be guilty of an offense and shall be subject to imprisonment for a term not exceeding two years or to a fine (now – no higher than EUR 17 086), or such imprisonment and fine together, and in the case when a ship is registered in the Registrar of Cyprus ships, the court may decide to remove the vessel from that registrar.
Thus, the Republic of Cyprus announced of protection of its territorial sovereignty. International organizations, in particular, the International Maritime Organization – IMO, UNCTAD, International Chamber of Shipping, as well as classification societies, insurance companies, diplomatic and consular offices of all countries, maintaining relations with the Republic of Cyprus, got aware of this decision.
Despite the progress in resolving this political conflict, until recently, the masters of vessels entering the ports of the Republic of Cyprus after visits to the ports of Northern Cyprus, were under the threat of criminal penalties, including imprisonment and a pretty serious penalty.
Situation in Ukraine
State Inspectorate of Ukraine on security in the maritime and river transport (Ukrmorrichinspektsiya) suggested closing the Crimean ports due to the inability to ensure the safety of navigation in their waters. The Ukrainian Embassy in the UK has respectively informed the Secretariat of IMO, its Member States and representatives of foreign companies accredited to the IMO. The essence of this information is to advise that Ukraine can not ensure an adequate level of maritime safety and compliance with its international obligations to the safety of human life at sea, search, rescue, etc. at the ports of Evpatoria, Kerch, Sevastopol, Feodosia and Yalta.
In Ukraine, the Law "On the rights and freedoms of citizens and legal regime of the temporarily occupied territory of Ukraine" was adopted on 15 April, 2014. This Act amended the Criminal Code of Ukraine with the Art. 332-1. The article defines corpus delicti such as violation of the regime of entry into the temporarily occupied territory of Ukraine and exit from it. An essential feature of the subjective aspect of this crime is a special purpose: causing of harm to the interests of the state.
Isolation of the Crimean ports from the international transport market is progressing. We can, of course, assume that the shipowners themselves pragmatically refuse port calls to the annexed Crimea. Of course, one can also talk about banning calls to the Crimean ports through Code ISPS (The International Ship and Port Facility Security Code). The fact is that even if the authorities of the Russian Federation or the local authority will be able to effectively ensure the safety of navigation in ports in the occupied territory, formally IMO as a specialized agency of the UN does not recognize the certificate of compliance with the Code issued to any ship or the Crimean port by the Russian authorities.
The legal situation in the Crimean peninsula is in need of a transparent legal settlement that could bring the necessary and sufficient level of certainty as to the legal regime for maritime business.
Source: Interlegal
http://www.hellenicshippingnews.com/crimean-ports-possible-solutions/