UK Court found ram very brutal though harmless. The RMS Baerl drunken Captain case.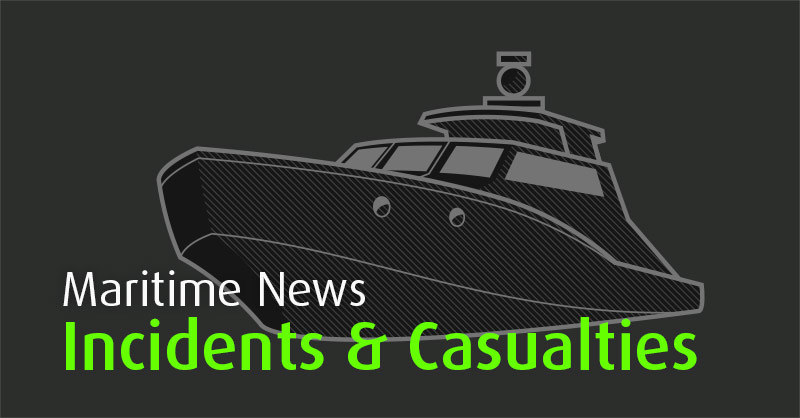 Several UK media published a story on drunken Russian Captain in Hull's Crown Court, charged with drunken command of his vessel on Sep 12 2012. Vessel under his command, general cargo vessel (coaster) RMS Baerl, hits the Goole port lock gates while manoeuvring , writes Daily Mail.
Quote from Daily Mail article:
Unsteady on his feet, he steered a collision course with his 328ft long ship loaded with scrap aluminum.
Poleshchuk was more than four-times over the drink drive limit. He had 157 milligrams of alcohol in blood when the legal limit is 35. Poleshchuck of Rostov, Russia, pleaded guilty to a charge of being over the prescribed alcohol limit for a ship's master at Hull Crown Court.
It's unclear all through article in Daily Mail and other stories in other media just what exactly happened except contacting lock gates, it's unclear in fact, whether vessel was leaving port or has just arrived, because all media write:
Paul Norton, mitigating, said Poleshchuk had been drinking 12 hours before the September 12 incident, because he thought he didn't have to sail until later. But his departure time was unexpectedly brought forward to just after midday.
But after that, all articles add some contradicting details:
The ship was 100metres long and the berth was 105metres. It was a tight fit. Eventually the ship was towed into position.
So, what it was, departure or arrival? If departure, when and how vessel was berthed and master arrested? But it's not all, the story seems to be absolutely the same in all the media which published it, except some vessel's details. All media except Daily Mail named the vessel as RMS Bell, but there is no vessel under such name. All media except Daily Mail describes the vessel as a "giant 30,000 tonne ship 100 meters long", which is quite a story in itself – there is no known to Nature and shipping 100 meters long cargo vessel with 30,000 tons capacity, some 3,000 tons are much more likely than giant exaggerations.
The Daily Mail seems to be the only one who tried to know better, coming up with the name RMS Baerl and believable tonnage of 3,000 tons. Alas, there is something wrong too – the AIS records said on Sep 12 vessel was in Duisburg, Germany.
What was the vessel under Russian Captain Poleshchuk command, and what were the circumstances of the accident? No media mentioned damages occurred by the accident, on the contrary, Judge himself said that no harm was done, but – hear, hear – "The court heard it was not unusual for ships to hit the lock gates, but it was rare to ram them with such brute force". Did the prosecution measure the brutality of the ram, was it heard all over Goole and far beyond, or what? What exactly happened and what the crime is all about, why the Judge considers the accident to be such serious that: "My instinct is a custodial sentence, but not a long one. I don't want him thinking he can buy his way out of this."
One more master turned into criminal – thank you all so much, the defenders of society interests. You're wiping out professionals at a speed which pales the U-boats in comparison.
Voytenko Mikhail
Oct 10 2012
General cargo vessel RMS Baerl IMO 9194311, dwt 2879, built 1999, flag Antigua, manager Rhein-, Maas- und Seeschiffahrtskontor GmbH, Germany.
Viatcheslav Poleshchuk, 44, lost his master's certificate. He has a wife and two children. The ships agents have washed their hands of him. He has remained in Goole staying in a hotel awaiting his fate. His family had £5000 (maybe all savings they have) and they could wire to the UK if the court was thinking of a fine.
Links to some articles in question:
http://www.telegraph.co.uk/news/uknews/crime/9595812/Drunken-Russian-sea-captain-rammed-lockgates-then-asked-Can-I-have-another-go.html
http://www.dailymail.co.uk/news/article-2215131/Viatcheslav-Poleshchuk-Drunk-Russian-sea-captain-times-drink-drive-limit-twice-crashed-30-000-tonne-ship-lock-gates.html?ito=feeds-newsxml
Maritime Bulletin http://www.odin.tc