Services & historical Data & APIs
We deliver Vessel Traffic Analyses for maritime areas
Traffic Analyses & Reports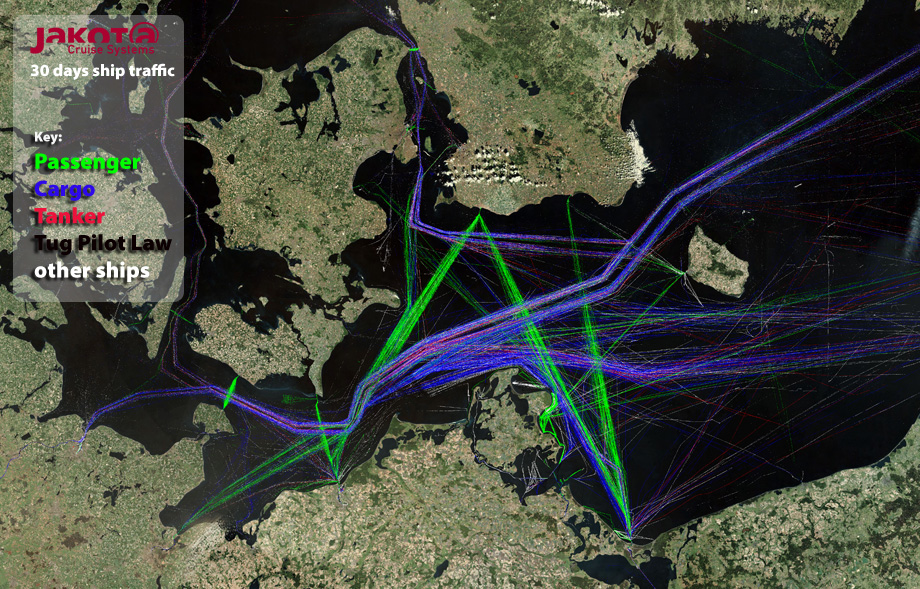 Example: Ship Traffic in the Baltic Sea: 30 days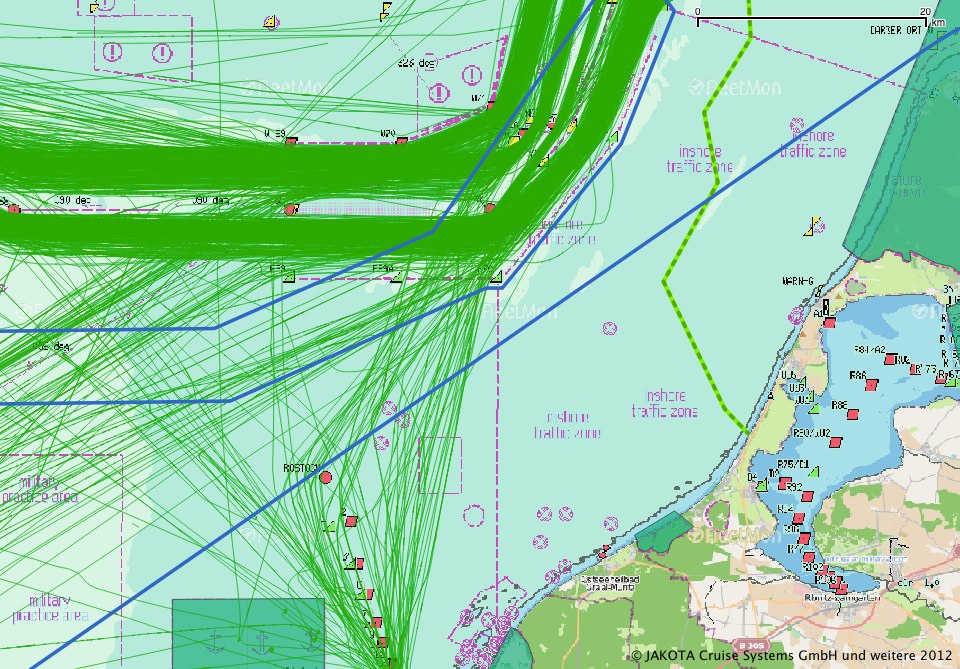 Example: Maritime traffic analysis for regional planning with AIS and GIS software, seacharts
Example: Global vessel traffic route visualization combining satellite AIS and terrestrial AIS records
Long-term vessel position and track data from our FleetMon AIS records is available both for terrestrial and satellite AIS.
Our datasets are suitable for: surveys, statistical analyses and simulations, and provide invaluable information for construction planning, risk assessment or collision/casualty replay for insurance cases.
We deliver complete analyses, georeferenced images, shapefiles for GIS software, Microsoft Excel, CSV, raw data or any other format you might need.
Criteria available for statistical evaluation comprise (but are not limited to)
geographical area of interest and time frame of interest
ships by vessel type (passenger, cargo, tanker, tug, pilot, law enforcement, ...)
details on cargo type
ships by flag
destination and course
velocities (speed over ground)
dimensions (width, length, draught)
date/time of port arrival and sailing
vessel voyage/itinerary history
What can we do for you?
Get in touch with us!
---
API, XML & Streams
Vessel position data via API, XML data for vessel tracking, raw streams
We supply world-wide vessel position data for integration into your existing software systems and logistics solutions. Any format suitable for your application such as XML, CSV, JSON and so on, can be made available via powerful web service interfaces (API). The Public API is available to every subscriber of FleetMon.com. Special requirements and large-scale projects are accomodated with flexible Customer APIs.
My Personal API: FleetMon data, right now, out of the box
With the Personal API, software developers get a powerful tool to connect their own software to the FleetMon.com Vessel Database. The FleetMon API lets you develop great software apps that are able to display live ship positions and data, port calls, weather conditions, ports and much more.
The API is available to every subscribed member of FleetMon.com. Access is personalized and authenticated through a personal API key. Head on to the My Personal API page for available functions and detailed instructions.
API functions are billed using Credit Points in a pay-per-use scheme, which lets you start any project without risk while letting your software grow easily with demand.
Customer API: Real-time vessel data for your application
Customer APIs leverage the extensive resources of the FleetMon Vessel Database and the FleetMon AIS receiver stations network for your application and let you benefit from our sophisticated algorithms to get cleaned and value-added data. Our experienced staff is able to address a broad range of data formats and will make sure that your customized API integrates well with your existing software. Don't hesitate to get in touch with us to discuss your needs.
Our Customer APIs seamlessly integrate satellite AIS data.
Example: Marine traffic and vessel positions in XML format, updated every 15 minutes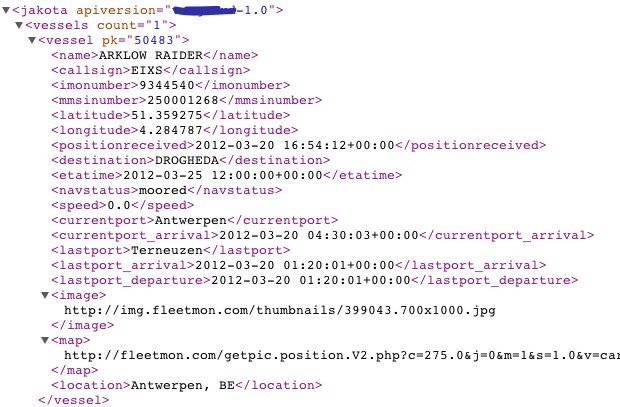 Raw NMEA streams for special uses
Special scenarios in offshore businesses, authorities and military may require raw NMEA feeds of AIS ship position data. FleetMon is able to deliver raw feeds with a latency as low as one second for marine areas of your interest. Please contact us to discuss your case. Note: Such feeds are useful only with appropriate real-time software. If you are not bound to using specific software, FleetMon Explorer may just be the real-time tool that you are looking for. In many applications, an update rate of several minutes is more than sufficient. Then, an XML API data service as described above is the tool of choice. It frees your software from all the heavy lifting that FleetMon.com does behind the scenes, and lets you benefit from its extensive resources, beyond pure AIS information.
What can we do for you?
Get in touch with us!