FleetMon Explorer - real time AIS vessel tracking
FleetMon Explorer is your interactive tool for live AIS vessel tracking. Providing you with a real-time view of the marine traffic, from global overview to the single ship, it is an outstanding and powerful tool for operations monitoring, fleet tracking, logistics scheduling, research and traffic analysis that runs right in your browser. Several map types are available, including satellite maps and navigation charts.
Start FleetMon Explorer and enjoy a stunning new perspective on the world of ships! Have a look at ships navigating in the port or even offshore, see vessels moor and unmoor, watch tugs and pilots do their work - FleetMon Explorer stands out offering continuous display without reloading. Find out details like the arrival or anchorage for more then 408000 vessels in our database.
FleetMon Explorer runs right in your browser, as a standalone desktop application and on your mobile.
Your Apps will be synchronized
All of your favorite vessels, lists, settings and viewports will be the same in FleetMon Explorer, in FleetMon Explorer Desktop and in FleetMon mobile. Access your vessel tracking software wherever you need it.
Instant installation
Sign up for free today and be up and running in seconds. It couldn't be simpler to install! Works on Windows, Mac OS X and Linux.
Stay up-to-date
You'll always use the latest version of FleetMon Explorer. We take care for automatic support updates, bug fixes and new features. Just start the App.
FleetMon Explorer - Features
Viewports
Save your favorite views on the Viewports toolbar. Six slots are available. Put Hamburg on 1, Panama on 2, Singapore on 3, Shanghai on 4... Press "Shift" key and click a number to save the current view. Just click on the number to display the saved view.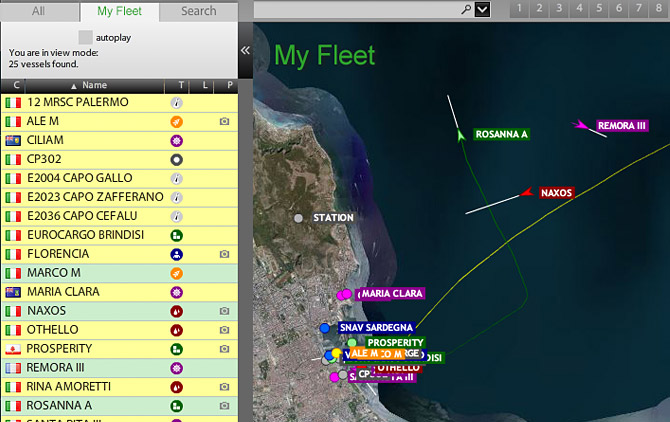 Fleet monitoring and favorite vessels
"My Fleet" gives you quick access and position overview for your favorite vessels. Use the star symbol in the vessel detail window to and and remove vessels from this list. "My Fleet" will be fully synchronized with FleetMon mobile and the Site Feature "My Fleet"!
Last day track
Click on any vessel and FleetMon loads and displays its last 24h track. Hover the mouse pointer over the little arrows to look up intermediate times and speed. It's never been easier.
Different map types
Move the mouse pointer to the earth in the upper right corner, and you'll have the choice between four different map types: Detailed maps, satellite imagery or a hybrid view.
Ship photo gallery
The ship photos can be resized to your liking by dragging their lower right corner. When your mouse pointer is positioned over the ship photo, the white arrows allow you to browse different photos available for this ship.
Follow vessel
Follow any vessel during its voyage by enabling the option "Follow selected vessel" in the "Vessels" menu. FleetMon will keep any selected vessel on screen while sailing.
Closest Point of Approach
"FleetMon" measures Closest Point of Approach (CPA) and time to CPA (TCPA). Press "Ctrl" and click on the map to set your reference point. Both values are calculated for each vessel and displayed in the "Details"
Electronic Navigational Charts
It is only on sea charts that you can tell whether a vessel sails according to the rules, like in traffic separation schemes, deepwater routes, or port entrances - or if there is something unusual happening. That's why FleetMon Explorer supports display of Electronic Navigation Charts as a map background.
All users benefit from seacharts of the EU inland waters plus US waters. Full global seacharts are available on option.
Wind, Current and Wave
Your picture of the maritime traffic is not complete without the weather and the sea. FleetMon delivers vital information for the maritime world: wind speed, wave height and direction, and oceanic currents. Keep an eye on hurricanes and typhoons, do weather routing and consider waves and currents for bunker planning.
Live Operations Monitoring
Track your ships from anywhere in the world with Fleetmon.
Be alerted of ship arrivals and research ship schedules. Follow ship movements on-screen or replay past routes. Zoom down to see the ship dimensions, enjoy one-click access to the extensive ship database of Fleetmon.com with more than 408000 known vessels.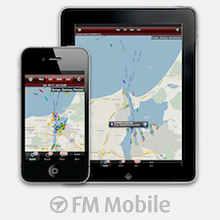 Users can track their vessels with mobile iPhone and Android Apps wherever they are.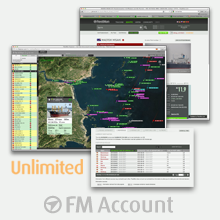 Get yourself a "Pro" or "Unlimited" Account today, to get all the amazing features of fleetmon.com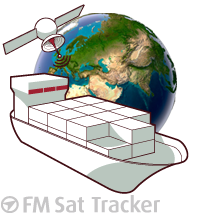 Global satellite tracking of your fleet with seamless integration in Fleetmon is available at an surprisingly affordable price.