FleetMon's Ship Spotting Tips and Quality Guidelines & Formats
FleetMon.com is dedicated to high quality ship photography. We encourage users from all around the world to submit and share their own ship photos. Photos must show the ship in full, be sharp and well exposed. Photos showing only parts of a ship cannot be accepted.
We at FleetMon.com are proud of the photographic quality on our site, and our image administrators are constantly monitoring uploads from our members. We are always pleased to receive submissions from members, but we may have to sort out one or the other image if it does not comply with our quality standards.
General hints and tips
New and notable: The GOLDEN FUTURE as seen by PixelOpa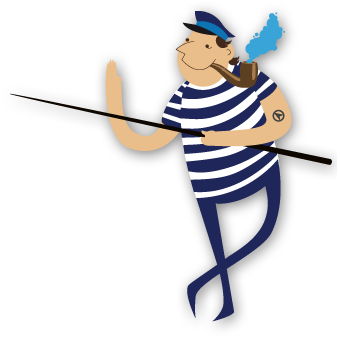 General hints and tips:
Do not use special photo effects or produce photo montages, these are not for this site and will always be deleted.
Flood lit shots of vessels in dock can be dramatic. We are pleased to include them - just make sure that they fulfil the quality criteria.
The same may be said of sunrise and sunset photos but remember you are shooting a ship and not the sunrise or sunset.
Our moderators are here to help you. All deletions are followed by an automated email telling you why the administrator has rejected your photo, sometimes our administrators will send you a personal email offering you further help and encouragement.
This is as much your site as ours, without your photos we would not have such a great gallery!
Take time to study other members photos and copy how they shoot. Click on the info button of any image you like. A lot of members leave their EXIF data in place, you can then see what settings they used to take their photo.
If you see a photo you like, give it the "thumbs up" or leave a comment. It is nice to receive praise but be nice not negative. Remember each member who uploads his photos is proud of them. They wish to share them with you, so please respect their efforts.
Follow the hints and tips we have given you and you will produce photos of which you will be proud.
Finally have fun and join in, that's why you are here, isn't it?!
If you have any questions or suggestions please contact us .
Quality standards for photo submission
Our general requirements on quality are:
The ship must be identifiable
Ensure that you have taken the photo from a position that shows off the vessel at its best. Try taking a photo at a slight angle, this will enable you to fill the frame well and produce a pleasing image. Try to include the vessel's name in the shot (this is not always possible as some vessels may only have the name on the side). We will accept photos that have been sympathetically edited using image enhancement tools, such as HDR so long as the editing does not alter the natural appearance of the ship. Over-edited photos exhibiting over-bright colours or changes in vessel colour are not acceptable.
The ship must be the main object on the photo and in focus
Use an editing program (there are plenty available on the web or from your local computer store, you probably received one with your camera), to crop the image to full frame. Try not to cut parts off. Ensure that other objects within the photo do not detract from the ship being the principal subject. The ship should stand out clearly from the background, this is particularly important with night shots and those exhibiting poor focus. Where the ship merges into the background or is overshadowed by other events such as firework displays, the photo will be deleted.
It is difficult, if not impossible, to correct poor focus or bad camera shake using an image manipulation program. Photos exhibiting these defects should not be uploaded.
If you are using long telephoto lenses or are shooting in low light situations always use a support. Tripods are ideal but can be inconvenient. Try a mono-pod, these are more convenient and usually collapse to a short enough length to be easily carried. A bench or sturdy fence can often be used if nothing else is available.
Uploads of multiple photos of the same ship should be restricted
Taking into account that a number of photos may be required to show all aspects of a vessel, we require that members should restrict their uploads of photos of the same ship to 7 photos. Further more, the images you upload should show a distinct change between each photo. A suitable sequence for a passing ship would be Head On, Bow or Shoulder, Beam, Quarter, Stern: taken from port or starboard – this leaves the opportunity to highlight any differences between port and starboard in the two remaining photos. Further uploads of photos of the same ship should be carefully considered. Try to restrict further uploads to features not shown in previous photos, for instance livery changes. We recommend that members delete previous photos if they are uploading superior photos.
The photo should show the ship in full
No significant parts of the ship that could otherwise be seen from the photographers perspective should be obscured by other objects or be cropped from the image.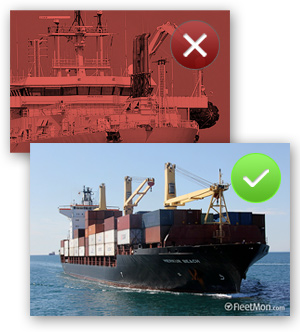 The ship must be clearly distinguished from its surroundings
The ship should stand out clearly from its background and should not appear to merge with it. This is particularly important with low light or winter shots where there is a tendency for the ship to be a similar shade to the sea or sky background. Equally important is to ensure that other vessels or objects do not obscure the ship outline.
Avoid shooting from a position where objects obscure the vessel. Often we see photos where the ship is partially obscured by trees. Try to move to a different location or move closer to shoot through a gap and zoom out if necessary.
Often photos shot at low level on a quayside contain objects such as vehicles or goods awaiting loading, which can obscure a ship. Try getting higher or moving a little! It is surprising how sometimes just moving 1 or 2 metres can make a shot successful.
The photo should show both hull and superstructure
Under almost every circumstance it will be impossible to take an acceptable photo from the quay to which the vessel is moored. If taking photos from above, e.g. from a bridge, helicopter, etc, you would need to make sure that you are positioned well to one side to enable your image to show one side of the hull as well as the deck and superstructure.
If taking photos from a position just above water level e.g. from a small craft, quay or canal side, avoid taking photos too near to the vessel as this may result in the hull obscuring the deck and some of the superstructure.
Photos must be sharp and well focused
This is down to you, try to stand so that you are well balanced and have a solid shake free grip on your camera. If you are shooting when other photographers are about, take time to see how they hold their camera, it is amazing how much you can learn just by observing others.
What objects do we accept images for?
Any object transmitting an AIS signal is referred to as a ship station. These include SAR craft, Coastguard stations, Lighthouses and, increasingly, AtoN (aids to navigation) which are usually buoys. Whilst we are happy to receive photos of ship stations that are not vessels, we will not accept AtoN of the buoy type. For clarity ship stations will be referred to as ship in the Guideline text.
Pixels and ratios
It is natural that small photos look pixelated on today's high-resolution screens, and long thin photos don't look very good on the FleetMon.com website. If you upload the photos right in the size as they were produced by your camera, there will be nothing to worry about: all modern cameras produce high-resolution photos with a gold-standard size and aspect ratio.
However, if you like to rework your photos, please consider the following basic points to make sure that your reworked shots look great both on FleetMon.com and FleetMon mobile:
We strongly recommend a minimum width of 940 pixels and an aspect ratio between 3:2 and 4:3. For example, 1024 x 768 pixels is great! Long thin photos of less that 3:2 (for example, a photo with 1000 x 500 pixels) just don't look good. They are discouraged and may be deleted.
Show the ship, not the water
This is a site about ships. So why not zoom to the ship? This will allow all FleetMon users to better see the details of the ship.
If your shot has too much water on it, you can crop the image with your favorite photo editing software. It is good photographic design to crop so that the vessel fills the photo frame by at least 80% in one direction.
"Okay," I hear you say, "but sometimes it's the waves, the mist and the sun that makes the photo special and captures the mood so well." You are perfectly right, and we love those shots as much as you do. No need to crop the atmosphere away. Just be informed that this photo will rarely be chosen for a ship's master picture.